IWEECH TAKES CARE OF YOU
Exercising and burning calories has never been easier
IWEECH replaces your gym
Burn calories without realising it.


Decide on your weekly calorie target


IWEECH automatically adjusts the level of assistance to achieve your goal


Track your performance and compare yourself to the IWEECH community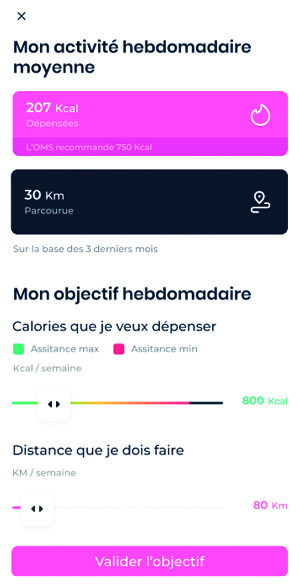 Setting a goal made easy
Riding an electric bike burns calories. With Fitness, Roll and IWEECH helps you burn the desired level of calories without changing your routine.
Change your weekly goal at any time
Adjust if necessary the weekly distance to be covered
Discover new routes to increase your weekly mileage
Temporarily deactivate the fitness function if you need the full power of the bike (via app or via button on the bike)
Visualise your progress
Week after week
Evolution of weekly activity
Follow-up on objectives met
Distance travelled
Calories burned
Total time in operation
Comparison with the WHO recommendation
Comparison with the IWEECH community